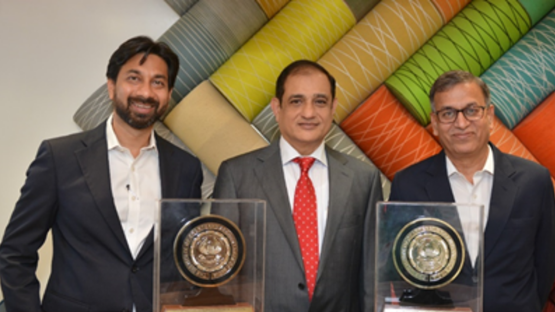 Grasim wins 2 Gold Shields at The Institute of Chartered Accountants of India Awards Ceremony
February 2022 : Grasim Industries Limited ("Grasim") was bestowed with two 'Gold shields' by "The Institute of Chartered Accountants of India (ICAI)" under the aegis of the Research Committee and Sustainability Reporting Standards Board (SRSB) of ICAI. Grasim won the prestigious Gold in ICAI Sustainability Reporting Awards for Integrated reporting (manufacturing sector) and Gold in Excellence in Financial Reporting'- Manufacturing and Trading Sector (Turnover equal to or more than Rs 3,000 crore) for the year 2020-21.
Grasim was presented these awards by Dr. Jitendra Singh, Hon'ble Minister of State (Independent Charge) of the Ministry of Earth Sciences, Science & Technology, Minister of State in the Prime Minister's Office, Ministry of Personnel, Public Grievances & Pensions, Department of Atomic Energy, and Department of Space.
Commending the company's performance, Ashish Adukia, Chief Financial Officer, Grasim Industries Limited, said, "We are thankful to ICAI for this acknowledgment and honour. It is indeed a proud moment for Grasim as we celebrate our 75 years to become the first company to win an individual award in the Integrated Reporting category. Our endeavour is to take a holistic and comprehensive approach which is relevant in today's world, in our reporting to our stakeholders."
The objective of "ICAI Sustainability Reporting Awards 2020-21" is to recognise, reward and encourage excellence of businesses in Integrated Reporting and acknowledge initiatives of businesses with a transformative contribution to the 2030 agenda for sustainable development.
The selection was made through a robust 3-tier process:
• Review by technical reviewers on defined parameters,
• Review of shortlisted sustainability reports by Shield panel, & • Selection by an external jury comprising representatives from across the globe from regulatory bodies, industrialists, philanthropists, professionals, academicians, etc.
The Awards event highlighted the best practices followed with the legacy of 'ICAI Awards for Excellence in Financial Reporting', instituted in 1958. ICAI established a mechanism and platform to recognize and reward the entities' efforts in preparing and presenting financial information.
Pavan Jain, Senior President, Grasim Industries Ltd informed, "The ESG journey of Grasim has been very transformational in last few years and we have achieved major milestones on the reporting front. We are committed to best in class ESG disclosures for the benefits of all our stakeholders."